CollectiveFab
Low Heel Ankle Boots For Women By Qupid | Women Low Heel Ankle Boots Embroidery Stitchwork Distressed Pointy Toe Silhouette Ankle Boots
Regular price
$44.88
$0.00
Low Heel Ankle Boots Low Heel Ankle Boots For Women By Qupid | Women Low Heel Ankle Boots Embroidery Stitchwork Distressed Pointy Toe Silhouette Ankle Boots 2018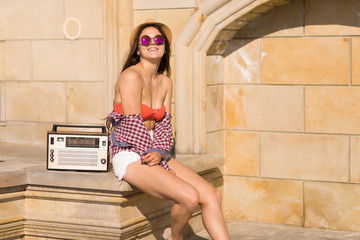 Enjoy the Vegan Leather material comfort when you choose the right boots for you. You might spend all day cleaning them up, but once you're ready to go, these brown ankle boots for women are sure to garner compliments from everyone you encounter. They're made from Vegan leather, so even vegans can wear them without feeling guilty.
These western inspired ankle boots feature a distressed vegan leather upper with embroidery stitching pattern design, pointy toe silhouette, and low stacked heel. Finished with a cushioned insole, soft lining, and side zip-up closure. 
Imagine having the perfect fall outfit that matches your personality. Have fun and laugh with your girlfriends knowing we got you covered because we have slim comfort finishes to match all of your equestrian garb. We also have leather shoes from Michael kors Harley Davison brown slimpack dirtbike to ankle faux Jessica Simpson.
The premium stacked heel allows just enough lift length to your legs making your ankles and calves look amazing and still enjoy the enough lift. Making you will have charming looks.
Because With the perfect amount of padding, you'll be able to run around all day with ease in comfort! The laces give you an adjustable fit based on how fitted you'd like your shoes to be.
Value Why spend more on high-end seasonal styles when you get the same quality at a fraction of the price? This style for just about any outfit and the slight incline in the heels help elongate your legs! The skid prevention rubber outsole will make sure you run around town safely.
 Women's Shoes: Low Heel Ankle Boots Women By Qupid | Women Low Heel Ankle Boots Embroidery Stitchwork Distressed Pointy Toe Silhouette Ankle Boots

Material: Vegan Leather (man-made)
Sole: Synthetic
Measurement
Heel Height: 1.6" (approx)
Shaft Length: 6" (including heel)
Top Opening Circumference: 10.25" (approx)
Women's Shoes: Low Heel Ankle Boot By Qupid | Women Low Heel Ankle Boots Embroidery Stitchwork Distressed Pointy Toe Silhouette Ankle Boots
SHIPPING VIA USPS: ORDERS WILL BE SHIPPED WITHIN 5 BUSINESS DAYS AFTER THE PAYMENT CLEARED 
PLEASE ALLOW 5-7 BUSINESS DAYS FOR DELIVERY
TO ENSURES THAT EVERY PURCHASE IS A SUCCESSFUL ONE FOR OUR CUSTOMERS BY GUARANTEEING PRODUCT SATISFACTION. IF YOU'RE UNHAPPY WITH YOUR PURCHASE, EMAIL OUR 24/7 CUSTOMER SUPPORT CENTER AND WE WILL HAPPILY AND PROMPTLY RESOLVE ANY ISSUE YOU HAVE. PROCEED AND BUY WITH ASSURANCE THAT WE WILL BE THERE FOR YOU!
NO RISK: WE GUARANTEE YOU'LL LOVE OUR WOMEN ANKLE BOOTS FOR WOMEN OR WE'LL GIVE 100% OF YOUR MONEY WITH NO QUESTIONS ASKED, SO YOU CAN SHOP WORRY FREE!
CLICK ADD TO CART NOW TO ORDER YOURS TODAY!